Wednesday, March 09, 2005
and book six looks like this


moxie wrote this on 1:08 AM
|
Sunday, February 27, 2005
No Sex In The Champagne Room
Chris Rock is hosting the Oscars this year, which should be really interesting. He's probably my second or third favorite comedian ever. The man is a genius. Anyone who's caught his previous hosting gigs, though, knows that we're in for a bit of a shock. (At the MTV Music Awards in 1999, he basically dissed all the presenters and performers. Sample line, introducing 'N Sync: "Are you ready for some lip-synchin'? Are you ready for some reeeeal lip synchin'?")

Take *that*, Gil Cates.

So, here, because I'm sure you freakin' care, are my predictions. Note that I'm almost never right, so if you're placing bets at your Oscar party, you're screwed.

Best Picture - THE AVIATOR.

It's this or "Million Dollar Baby." This one was bigger and noisier, and the other one has a controversial ending that Rush Limbaugh hates. Expect the Academy to wuss out.

Actor in a Leading Role - Jamie Foxx in RAY

Duh. I mean, duh. I mean, he's so far won every other goddamn award for his performance as Ray Charles, from the Nobel Peace Prize to the Good Citizenship Award from Mrs. Schlotzky's third grade class in Muncie, Indiana. Dude's gonna win. And he should.

Actor in a Supporting Role - Morgan Freeman in MILLION DOLLAR BABY

Morgan Freeman has never won an Oscar. Ever. In his life. Not for "The Shawshank Redemption." Not for "Driving Miss Daisy." Not for "Glory." This is so totally wrong, and the Academy knows it.

Actress in a Leading Role - Hilary Swank in MILLION DOLLAR BABY

It's her or Annette Benning. Again. In '99 it was Annette's "Housewife having a nervous breakdown" vs. Hilary's "Girl Transsexual Who Gets Murdered." And I love Annette Benning, but Hilary deserved to win it that year (you can't watch Boys Dont Cry without feeling sick at what she goes through) and she probably deserves to win it this year. Also, her character becomes disabled and dies. The Academy frickin' loves that.

Actress in a Supporting Role - Cate Blanchett in THE AVIATOR

It could very well go to Natalie Portman. The Oscars occasionally like to use the Best Supporting Actress award to coronate an ingenue (see: Mira Sorvino, Marisa Tomei, Jennifer Connolly) who plays against type. However, Cate Blanchett didn't so much play Katharine Hepburn as perform some kind of crazy voodoo spell to ressurect her spirit from the grave, which Cate then allowed to use her body as a puppet. Also, she's a British chick pretending to have an American accent.

Animated Feature Film - THE INCREDIBLES

It's up against Shrek 2, a very funny movie that was a sequel to another very funny movie, and Shark's Tale, which just blew. So it'd be a lock if The Incredibles wasn't also the best portrayal of a realistic American family to come out in any movie this year, super powers or not.

Directing - THE AVIATOR

Does anyone think Martin Scorsese has another Goodfellas or Raging Bull in him? Me neither. The Aviator, however, was very good, very technically impressive, and Marty doesn't have an Oscar yet. They're gonna give him one to make up for the fact that in 1990 he lost to Kevin Bloody Costner.

Documentary Feature - BORN INTO BROTHELS

Super Size Me was a bigger hit, but this one has dying kids.

Documentary Short Subject - AUTISM IS A WORLD

Sister Rose's Passion was about a woman who worked to fight anti-semitism in the Catholic church, a hot topic in a year where The Passion of the Christ was so huge, but this one has sick kids.

Music (Song) - "Believe" from THE POLAR EXPRESS

This award always, always, ALWAYS goes to the song I hate the most, except when it went to Eminem (that was AWESOME). "Believe" was sung by Clay Aiken. Expect to see his shining gerbil face at the podium come sunday.

Writing (Adapted Screenplay) - SIDEWAYS

It's about a writer with writer troubles (wine, women, and a 2,000 page manuscript). It also got nominated for a ton of stuff, and it's not going to leave empty handed. Alexander Payne will finally get his props.

Writing (Original Screenplay) - ETERNAL SUNSHINE OF THE SPOTLESS MIND

This award has tended in recent years to go to the movie that the critics all loved that was oh-just-too-weird for Best Picture; the non-Blockbuster that people will remember for years to come. It also tends to go to the movie I like the most. It went to Pulp Fiction. It went to Dead Poets Society. It went to Fargo. It went to Lost In Translation. It went to Good Will Hunting. It went to Almost Famous. If there's a Gott in himmel, it'll go to Eternal Sunshine.
moxie wrote this on 1:14 AM
|
Friday, February 25, 2005
shorties watchin' shorties
You know that hour or so in the middle of the Oscars where they give out the Short Film/Documentary/Best Performance By A Doughnut, Bowtie, or Cruller awards so you have a chance to get up and take a dump?

Well, dump no longer, my friends, because the good people over at Salon have posted five of the Best Short Film/Animated Film nominees on their site until Friday at 3pm, and you can watch them by clicking the word "here":

Here.
moxie wrote this on 12:08 AM
|
Tuesday, February 22, 2005
Kids these days... har har har



Note: A while back, Electronic Gaming Monthy (EGM to you) got a bunch of 10-14 year old kids together to play classic video games. Here's a sampling. Mind you, this is actual dialogue. Prepare to feel old.

Space Invaders - Arcade • 1978
This 25-year-old shooter was the first arcade game to become a national sensation.

EGM: This game was so popular in Japan that—

John: They made it into a TV show?

EGM: Well, no. It was so popular that they ran out—

John: Oh, did they make collectible trading cards for it?

EGM: Um, no. It was so popular that there was a shortage of the coins used to play it.

John: But you can get this game on a cell phone. Why would you want to pay for it in an arcade?

Andrew: I've seen a game like this in the arcade, but it's tons faster.

Sheldon: …and it's in color.

Andrew: …and your spaceship looks more like a spaceship.

Nico: …and not like a little box.

Gordon: It looks like food.

Andrew: Where's my rapid fire?

Nico: The aliens look like spiders...

Becky: …and squids and crabs.

John: Maybe this is what seafood will do in a thousand years.

EGM: How long could you play this game before you got bored?

Sheldon: About 15 minutes.

Andrew: If you take it on the road and play it on your cell phone, then you might play it pretty long.

Nico: There's nothing else to do.

Andrew: Except look at nature.

EGM: Would you rather play this or play outside?

Andrew: Outside.

Nico: This game needs a super bomb or something.

Tim: This is nothing compared to Grand Theft Auto III, because you can't steal a taxi cab, pick up somebody, then drive into the ocean with him.

Kirk: And you can't pick up an AK-47 and go kill—hey, those aliens on the top row, you use them in EGM for stuff.

EGM: Yeah, we use them to end our articles. They do kinda look like they're from Space Invaders, don't they?

Tim: They're going to sue you.

Kirk: I'm sure everyone who made this game is dead by now.

The whole article can be read here, courtesy of the nice people over at 1up.com
moxie wrote this on 5:09 AM
|
Monday, February 21, 2005
this ain't the dead author's blog, really, but...
...this was a really bad way to wake up this morning.

Hunter S. Thompson kills himself at age 67.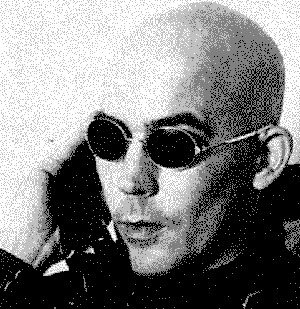 Work was impossible. The geeks had broken my spirit. They had done
too many things wrong. It was never like this for Mencken. He lived
like a Prussian gambler--sweating worse than Bryant on some nights and
drunker than Judas on others. It was all a dehumanized nightmare...and
these raddled cretins have the gall to complain about my deadlines.
-- Hunter Thompson, "Bad Nerves in Fat City",
_Generation of Swine_

moxie wrote this on 9:48 AM
|
Monday, February 14, 2005
The Grammys: Blow By Blow
(or: How I Stopped Worrying About Kanye West, Who Is The Bomb)

man that was awkward rewrite that asap -ed.

No less an authority on freakin' everything than Bono said that this year's Grammys were some of the best he'd ever seen, and having won 16 of the things, he'd know. He was absolutely right, by the way.
Not too long ago, the Grammys had a reputation for being severely out of touch with music and what it was actually doing. Jethro Tull beat out Metallica for the first ever Best Metal Performance Grammy, for example. The first Best Rap Album award, in a year where Rap outsold all other types of music, was not televised. In the early 90s, when Grunge was king, Natalie Cole's ghoulish duet with her dead father won approximately 742 awards. And there was a long stretch of time where the only time anyone gave Bonnie Raitt a second thought was on Grammy night.
This year was markedly different, and I sat through most of the ceremony and recorded what I noticed. No need to thank me.
**
8:02 - The Black Eyed Peas, who have been everywhere in the past 12 months from Superbowls to The Sims, take the stage to perform "Let's Get It Started." Get it? It's the start of the Grammys, so they're singing about getting things started omg lol.
8:04 - Gwen Stefani and Eve take over, because for some reason no one gets to play a full song at these things anymore. Gwen looks like Madonna circa 1985 gone horribly wrong.
8:06 - Maroon 5, who I always liked more than I let on, take over. They're all wearing suits and ties. Ties are the new flannel.
8:09 - Ah. Franz Ferdinand. It's nice to see the RIAA giving their props to Indie, whatever the crap that means anymore.
8:10 - Wait a minute.. now all those bands are on stage at once, all playing their songs at the same time. Oh my God... it's a live "Mash-up." Considering that the record industry tried to put the kibbosh on Danger Mouse's "The Grey Album" where he mixed The Beatles and Jay-Z and came up with one of the best albums-that-wasn't-really-an-album ever, this is pretty bold. It should be awesome, except that it actually sounds pretty terrible. If you missed it, play every record you bought in 2004 at once. Yeah. It sounded like that.
8:13 - Queen Latifah is your host for the evening. She says a bunch of stuff I missed because I was making pasta.
8:16 - The first award of the evening is preceded by a vignette of some old blues guy getting a Lifetime Acheivement Award Grammy. They splash his face on the screen for about five seconds before moving onto the Pretty And Vapid People Who Make Noises With Their Mouths Awards, otherwise known as the Best Pop Vocal Performance category.
8:18 - Oh, God. They nominated "The Reason." Please, God, not "The Reason."
8:19 - Phew. The Los Lonely Boys won, even though you've never heard anything they've ever done.
8:20 - My linguini is done. Awesome.
8:24 - Heineken runs an ad where a black guy plays a mean electric guitar which causes his instrument to catch fire. The white guys he's auditioning for are like "whoa," until he tries to put out the fire by pouring his Heineken on it. The white guys are displeased. I think this ad says more about race relations in our country than just about anything.
8:26 - Alicia Keys. Rrrrrroowwwwwrrr...
8:30 - There's Quincy Jones, who's someone else you only think about on Grammy night. Quincy Jones is the new Bonnie Raitt. Jaime Foxx comes out, and briefly reprises his award winning performance as Ray Charles in a duet with Ms. Keys. Wait a minute... Alicia Keys.. and she plays piano. Pianos have keys. Dude, check it out.
8:33 - Nelly, rockin' the suit, and Adam Sandler, dressed like your Dad on a Saturday afternoon, come out to present the award for Best Male R&B Vocal to Prince, who was unable to attend the ceremony because he is Prince, and he is funky.
8:35 - The "in ceremonies held previously this evening..." crawl at the bottom of the screen informs me that Bill Clinton won Best Spoken Word Recording for the Audiobook of "My Life." Bling bling.
8:40 - Jerry Lee Lewis gets some sort of Lifetime Achievement Award that they didn't show, but he gets a shout-out from the stage. Some have said that the strain of no-holds-barred shock rock that he pioneered makes him the spiritual grandfather of The Sex Pistols and Marilyn Manson. Also, he married his 13-year old cousin.
8:41 - U2 performs "Sometimes You Can't Make It On Your Own," which is a touching ode to Bono's late father. Bono informs us of this, dressed up like "The Joshua Tree" era Bono, with the cowboy hat. Does he ever take those sunglasses off? Like, in the shower?
8:46 - Led Zeppelin finally get some props from the industry for being the one band that influenced 60% of rock music, even though nobody got what they were tryin' to do, maaan. QT presents the nominees for Best Rock Album, and The Killers "Hot Fuss" is actually one of them. Wow, they're making an effort to be hip. Green Day wins for "American Idiot", however, and all is right with the world. Billie Joe Armstrong says something about rock having the potential to be dangerous and fun that makes me tear up for just a second.
8:50 - And now the moment we've apparently all been waiting for, at least according to Mr. Announcer Man: the earth-shattering oh-too-sexy-muy-caliente duet between J-Lo and Mole... er.. Marc Anthony. Don't talk about the mole. The mole is right there. Not supposed to talk about the mole but there it is MOLEY MOLEY MOLEY...
9:01 - Wooderson from "Dazed And Confused" introduces a Tribute To Southern Rock. All right all right all right. The surviving members of Lynard Skinnard are there, playing "Free Bird" and "Sweet Home Alabama" with Tim McGraw and the incredibly hot Gretchen Wilson. Dicky from the Allman Brothers is singin' "Ramblin' Man" like it's 1973. I'm totally getting into this ode to Red State rock, but if they're really gonna be fair and balanced, the next act better be like Sleater-Kinney or something.
9:15 - My local newscast promises something called "Xtreme Weather". This had better involve either frogs falling from the sky or Harvey Leonard giving the forecast while goin' over a waterfall on a BMX bike.
9:16 - Ellen Degeneres comes out wearing an Iggy Pop t-shirt. That's it. Punk is dead.
9:17 - Queen Latifah, your host from the evening, comes out to croon some tracks from her new record. I have nothing bad to say about this whatsoever. The woman is awesome. What can I say?
9:20 - Jay-Z won Best Rap Album in ceremonies not televised because he's not Eminem.
9:21 - Maroon 5 wins The Mark Cohn Memorial Award For Best New Artist Soon To Become Totally Irrelevant.
9:30 - Green Day. Holy crap. Billie Joe Armstrong just gave us the finger, which is what rock is really supposed to be doing, so that's fine with me. It's a "blistering performance" with which I am thoroughly pleased, as is Cyndi Lauper. Just in case you thought rock and roll could save the world, out comes Ricky Martin to present the next award.
9:44 - During a Gospel tribute, Kanye West comes out for a brilliantly staged and produced performance of his hit "Jesus Walks." Why have I never sat down and listened to this song before? It is so, so good.
9:48 - Hey, ya know the fourth Blind Boy of Alabama to the right? So totally not blind.
9:53 - I'm upstairs, downloading that Kanye West song, from iTunes, no less. Legally. I mean, the song's about Jesus. You can't Kazaa that sucker. Wouldn't be right.
10:03 - A tribute to the late Janis Joplin brings to mind two things. One is that I wonder what Joss Stone would do with the Mercedes-Benz song. Another is that MELISSA ETHERIDGE IS BALD NOW.
10:11 - Billie Bob Thornton emerges from his dungeon reeking of Ole Grandad to bring out Tim McGraw. I'm actually surprised that there hasn't been more country this evening.
10:17 - Amy Lee, dressed as the contents of a Glad bag, presents the best country Grammy to none other than Loretta Lynn, and her collaborator, Jack White of White Stripes fame. Jack reminds us that fourteen of Miss Lynn's songs got banned on country radio and they all went to number one, and that this album wasn't played either, and look, we've got a Grammy now so suck on that. Actually, I added the "suck on that", but it's somehow refreshing to know that all forms of radio are unwilling to take risks to play good music instead of whatever the latest "Osama Bin Hussein Can Kiss My Fat White Ass" Toby Keith offering is.
10:26 - Rob Thomas takes some time off from being bland to present the President's Icon award to the guy who signed Ray Charles.
10:27 - Speaking of bland, John Mayer is here playing "Daughters." The guitar part sounds nice and bluesy enough, but I still don't get why John is huge and not, say, any other random sensitive guitar playin' kid who used to hang around coffee houses in the late 90s. (see: Hewitt Huntwork, et. al.)
10:30 - U2 wins for "Vertigo" and gives props to The Killers and Franz Ferdinand.
10:37 - Bank of America is still trying to get us to love it.
10:38 - Anthony La Paglia introduces Anthony La Paglia, who introduces the aforementioned Tsunami benefit song, The Beatles' "Across The Universe", which you can download from iTunes, and all the proceeds go to help those affected. Velvet Revolver is backing, with Slash playing some neat spacey guitar riffs. There's Bono. There's Stevie Wonder. Norah Jones. Some old guy. Alicia Keys. Scott Weiland. A slightly out of key Billie Joe Armstrong. It's kind of cool, but I wonder if I'm supposed to feel inspired or global or something. Steven Tyler "zakarooaday-uh's" better than most. Duff McKeegan leads the music industry in one of those clap things bands do near the end of songs for some reason.
10:44 - Stevie Wonder and Norah Jones step forward. Norah says something, and Stevie follows it up by crooning Stevie Wonder-style and everyone goes frickin' nuts. I don't think Stevie Wonder has to pay for anything anymore. He could go into a restaurant and order a mess-load of food and then, when the bill arrives, he could just go "Hayy--yeah-uuhhhHAAyyeh" and everyone would clap and he'd order more food. This scenario is very likely because Stevie currently equals the girth of about three Norah Jones's. They present the award for Song of the Year to John Mayer's "Daughters" song, which even he doesn't seem to think is very good.
Thing is, I really hate laying into Mr. Mayer so much, because whenever I see him in any situation where he isn't singing or playing guitar, he seems like a really, really nice, self-effacing, witty guy who I'd totally hang out with. I just hate most of his songs.
10:50 - I've got to leave for work, so I pop in a tape and record the rest of the festivities, to be commented on later.
moxie wrote this on 1:18 AM
|
Saturday, February 12, 2005
FS Nosegrind + Varial Kickflip + FS 50-50 + Revert Manual + Blog Entry
Here's a list of some of the things that have happened since I was last here:

1) The Iraq elections
2) Arthur Miller: Dead Playwright
3) Superbowl XXXIX
4) That new Beck song.

...and here's what I've been doing instead of writing:





Yes. That's right. Tony Hawk: Pro Skater is a destroyer of creativity. I have, however, Golded the Tokyo Comp. in THPS3. Boo-yah. The kingdom of heaven is mine.

Luckilly, I'm at work right now, where there is no Xbox. So let's get crackin'.

1) The Elections

This is one of those weird cases where, as a Liberal Commie Bastard (tm), I have nothing bad to say. Well, not much, at least.

The people of Iraq, or at least those who braved the hail of bullets, the threat of death at the hands of the insurgents, and many other things, displayed the sort of courage that has got to floor anyone, no matter what their political persuasion. The brave men and women of the US Military who helped to make sure that the elections actually happened showed great courage and love as well. And for once - for once - US foreign policy upon deposing an evil dictator is not to prop up someone equally evil in his place, but instead to let the people choose their fate.

I still think "why Iraq and not (Saudi Arabia, North Korea, Iran, any number of African republics, etc.)". I'm still mad that they got us into this one under the false threat of non-existant WMDs, and then changed the justification for war after they didn't find anything. I still think that unilateralism is dangerous, not just in terms of human life but also in terms of our ability to make anyone listen to us ever again. And the violence hasn't ended in Iraq, the insurgents are still killing our troops and their own people and growing in number, and there's no proof that the new guy (or guys; it's an assembly they're voting for) is going to be any better than Sadaam. But the fact that these elections happened is a good sign. Not a sign that everything's going to turn around, or that everything is great, or anything like that. But it's a potentially positive development in a sea of bad stuff.

They announce the winner tomorrow.
http://news.bbc.co.uk/2/hi/middle_east/4261035.stm

2) Arthur Miller: Dead Playwright




They dimmed the lights on Broadway.

Playwrights don't get to marry Marilyn Monroe anymore. They don't become household names anymore, either. When was the last time a play had any real cultural impact? "Angels In America," probably. Maybe "Rent." Maybe "The Laramie Project." "The Producers", but that doesn't count. And I'll bet that your average schmoe hasn't heard of two out of three of those, and he definitely hasn't seen them. He's probably heard of "Death of a Salesman", though. Probably "The Crucible", too. And he'd probably really like "A View From The Bridge" if he threw down his hard earned for a ticket.

The problem with American theater is that it's now a boutique industry and it knows it. Only certain people go to plays, because a) the tickets are fricking expensive, and b) if the tickets are cheap, the play probably involves vaginas. The only plays really raking in the dough are adaptations of Disney movies, Mel Brooks movies, or "Avenue Q". All of these plays have their merits (Avenue Q is supposed to be pretty damn funny) but, seriously, if anyone can tell me what "The Lion King" says about the landscape of the American Experience and the darker side of human nature, I'll buy you a cookie*.

So, basically, if anyone nowadays wanted to write a searing drama about the struggle of modern man vs. the powers that be and the ever-changing world, he'd be lucky to get it mounted at the San Luis Obispo Senior Center, no matter how witty, grueling, or erudite it is. Sure, he could probably make it into an independent film and slay 'em at Sundance, but if he thinks his work would work better in the visceral, blood and guts exposed world of the stage, he's got another thing comin'*.

But there was a time where "Death Of A Salesman" was the talk of the town. Everyone identifies with "Death Of A Salesman". Everyone feels a whole Chex Mix of emotions for ol' Willy Loman because we've either been him or known someone like him. That's America, in all of it's glory and disappointment. Arty hated McCarthyism, so he wrote "The Crucible" to show us that history need not repeat itself. And now Ann Coulter is telling us that Joe McCarthy was "misrepresented by the liberal educational system," and people are actually buying it. Talk about not learning from history.

They dimmed the lights on Broadway for Arthur Miller. It's a different street now. Used to be, you could use those grand arenas to say something. Now folks like Sam Shephard and Tony Kushner and Wendy Wasserstein are almost always regulated to the West End, unless they can get someone famous to star (I would've killed my every loved one for tickets to that revival of "True West" with Phillip Seymour Hoffman and John C. Reilly a few years back). Course there was a lot of crap then too, but it didn't seem like that was what they were aiming for.

The point is, there's an Arthur Miller shaped hole in the world.

3) Superbowl XXXIX

I dunno, man. Maybe I'm spoiled, but when the Pats won this time... again.. for the third time in like four years... I was like.. "oh."

4) The new Beck song

... is called "E-Pro" and it's The Best Song Ever This Week. I don't even think it's on iTunes yet, but seriously, it's pretty damn good. It's the most *fun* song he's written since "Loser."
moxie wrote this on 8:41 PM
|